Hi guys!
(*^▽^)/
a long time ago i got this bb cream in a sample size,
i even forgot where i got this sample....but i'm sure i bought it online
somewhere...well let's straight to the review.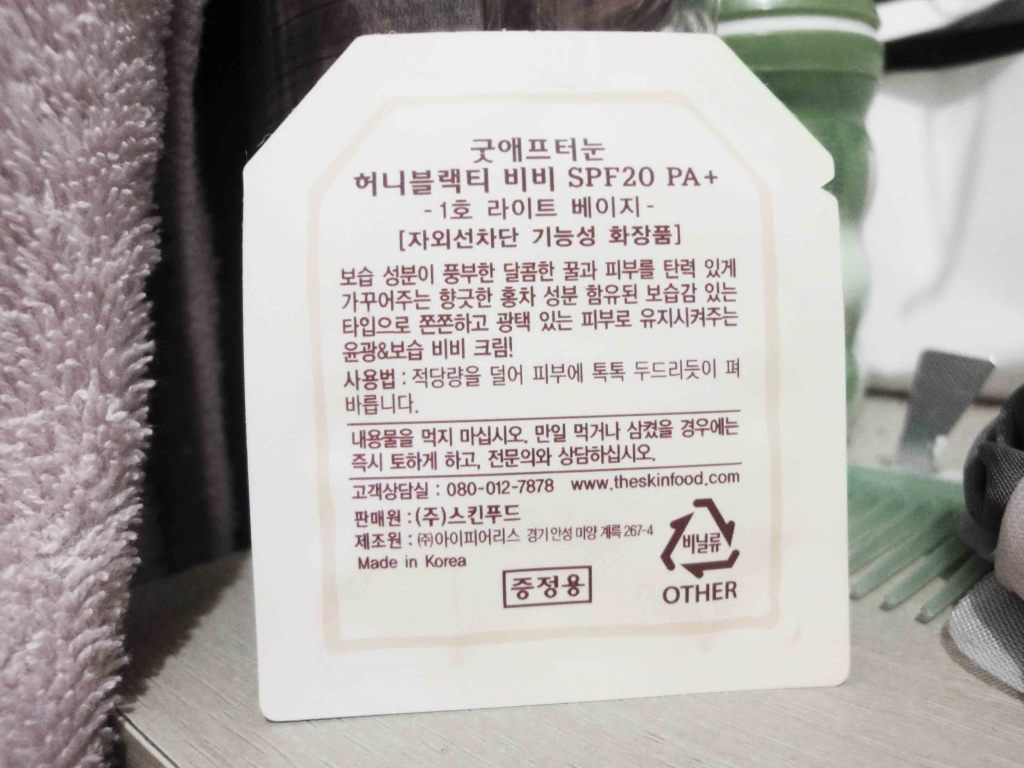 Good Afternoon BB Cream in Honey Black Tea with spf 20 PA+
this BB cream is a moisturizing and illuminating BB Cream with sweet honey and flavorful red tea that keeps skin soft and supple.
so this BB cream can moisturize our skin and makes it glowing.
Swatch on my hand
blended
this BB cream consistency is kinda runny and easy to blend,
the coverage is light to medium, so we still need concealer to hide acne scars
or dark circle.
Let's see how it's look on my face.
bare face...got so many acne this month...T___T
with bb cream

(゜◇゜)
this bb cream sure makes my face brighter and glowing.
some redness are covered but i still can see my acne scars.
if you love dewy finish you should try this bb cream!
but for me this bb cream is just so so.
i do love the dewy finish but after 3 hours my face become oily at my T-zone.
i think this bb cream is perfect for someone with dry skin and doesn't have
that many acne scars.
I prefer BB cream with good oil control and with medium to heavy coverage.
because my T-zone area is oily and i have a lot of acne scars.
- Dewy finish
- Easy to blend
- Moisturize face
- have SPF 20 PA+
- Cheap
- not for oily skin
- not good oil control
- light to medium coverage, still need concealer
This Good Afternoon BB cream line have 5 different kind to choose,
Berry berry tea, Apple Cinnamon tea, Rose Lemon Tea, peach green tea, and
honey black tea.
I should try peach green tea next! because i love peach and green tea!
can you tell? lol~
how about you guys?
already try this BB cream line?
don't forget to comment below~
(ノ´∀`*)ノ