hi girls~ long time no post huh,

but don't worry! i have a little surprise for you girls in the end of this review~
today review is about
My Beauty Diary Mask (Aloe)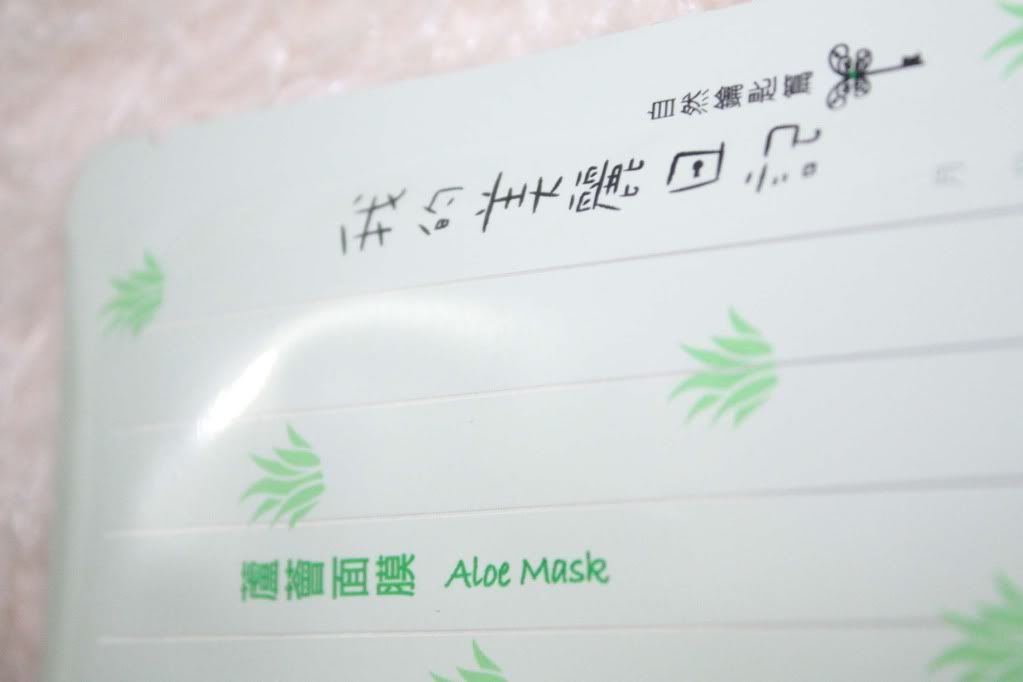 do you know about beauty diary mask?
My beauty Diary Mask
are face masks which originates from Taiwan. My Beauty Diary is very popular in Asia as My Beauty Diary Masks are made of natural ingredients, proven effective and most of all, they are affordable! Even Taiwanese actresses, Big 'S' (Da S also known as Barbie Hsu) and Small 'S' (Xiao S also known as Dee Hsu) recommend the masks.
My beauty diary provides a wide selection of mask to suit different skin texture needs in different seasons.
This selection aims at restoring a delicate, young and fair look to skin.
with meticulous care this mask selection provides, your beauty diary is sure to be recorded with improved looks day after day~
FYI My Beauty Diary consists of a wide range of masks, each has different characteristic and purpose and My Beauty Diary masks have different range for different skin types. Whether your skin is dry, oily, sensitive, dehydrated or dull, there is definitely at least one that suits you.
Mine is in aloe~ its in a Top 5 most popular beauty diary mask~
My face while using it
there is so much essence there~ its written that we can leave it for 20 minutes, but i leave it more than that~ because it feels so nice when using it, when you feels that your skin is tired this is nice for relaxation because there's cooling effect when you use it.
after using you can pat your skin so the essence will absorb more~
Excess essence from the packaging may be applied on the neck by massage.
Pro:
- Affordable
- Have a lot of variant to choose
- Have cooling effect
- Great effect on skin
Con:
- None :D
Rating: 5/5
i loveeeee My beauty diary mask so much!
so i'm going to share it with you guys~
this is what i will give to the one winner only~ and i will add more extra things there~
its contain :
My Beauty Diary Black Pearl Mask
My Beauty Diary Chocolate Truffle Mask
Etude House Aloe Mask
My Beauty Diary Black Pearl Mask
This mask is No. 1 the most popular variant of My Beauty Diary Mask!!
Purpose:
Hydrating, whitening
Skin type:
All skin types especially skin which is dull and lacks firmness
Characteristics:
Combining the active ingredients from the black pearl together with extracts from the marine and plants, it enhances the hydration of the skin improving radiance.Natural vitamin C extracted from plant essence helps to exfoliate gently, removing dead skin on the surface. This allows for deep moisturising, improving skin elasticity, energizing the skin for a healthy, radiant look.
My Beauty Diary Chocolate Truffle mask
smells like delicious dark cocoa powder, believe me! its hard to endure not to lick it!
brightens the face for a temporary radiance boost, and hydrates dry skin
Etude House Aloe Mask Sheet
Essence mask contains moisturizing aloe vera to prevent acne and soothe skin
Clean application without residue
Comes in easy-to-use adhesive sheets
How To Join:
- You must be a public follower on my blog (follow my blog via Google Friend Connect) and post your GFC name on your comment (+2 Point)
- follow me on twitter
@MatchaMei
and tweet about this giveaway, mention me in the tweet so I can check it, and post the link of your tweet on your comment (+1 Point)
- Post about this giveaway on your blog and post the link of your blog post on your comment(+1 Point)
- Put this giveaway in your sidebar (+1 Point)
This Giveaway will close on 20th November 2011 and the winner will be announced Monday 21th November 2011, ( this giveaway is open Internationally )
Good luck guys!
>w<