hello ladies~ ヽ(*⌒∇⌒*)ノ
today i want to share about my new favorite mascara!
who doesn't love mascara? especially if we have a short, straight lashes ⊙△⊙
it's
Majolica Majorca Lash Expander Frame Plus
( blue )
description is all in japanese .___.
i bought this mascara at Watsons Singapore,
at first i was confused because the lash expander frame that i know has a different packaging,
i think it's black with gold design on it, but i can't find it at all.
so when i saw this mascara i thought that maybe this is a new packaging?
and it has this "Winner of the Cleo beauty hall of fame 2012" tag on it,
so i throw it on my cart without any thought.
(*≧▽≦)
the packaging is really pretty, unique and eye catching,
there's Majolica Majorca logo on the cap.
It looks like a mascara for a queen or princess to use, Lol
o(≧∇≦o)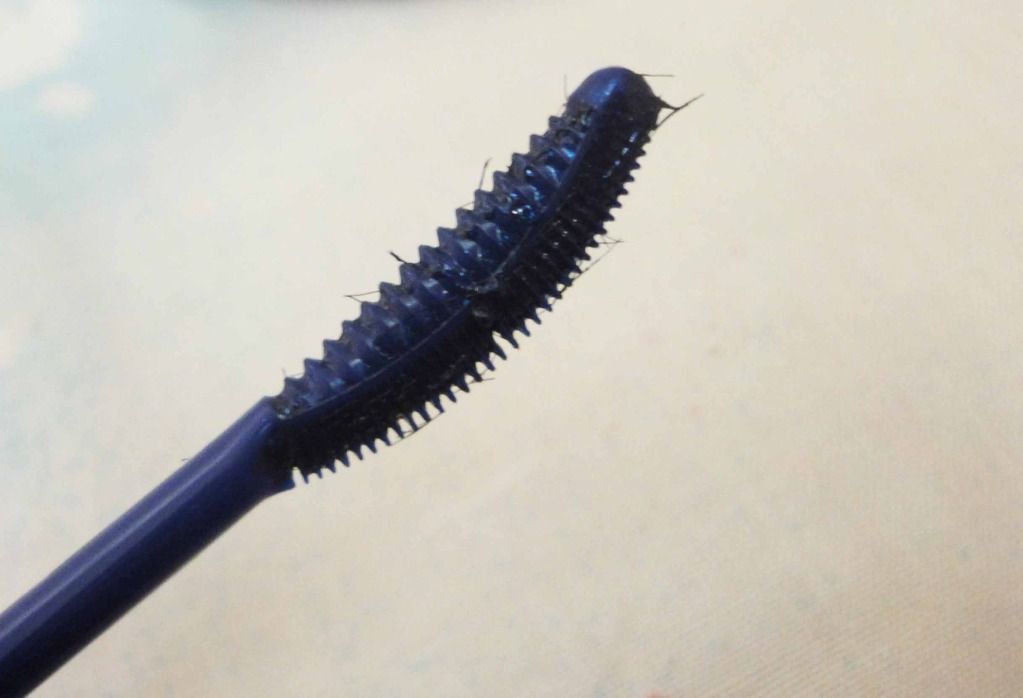 The applicator is also very unique! it's a comb type applicator!
all of my previous mascaras has a brush type applicator,
so this is my first time to use this type of applicator. ⊙▽⊙
you can see the fibers at the applicator,
so this mascara tend to make our lashes looks longer
Okay did i mention that i don't know this mascara is not in black color?
yes! at first i don't know that this mascara actually in Blue color!
⊙△⊙
that's why the packaging is different! *stupid me
here is the swatch on my hand,
as you can see the color is in deep blue, and the fibers is surprisingly longer than i thought.
⊙△⊙
my previous favorite mascara
Kiss me heroine make
have a smaller fibers.
the waterproofness of this mascara is really good!
i think it's more better than my Kiss me Heroine make mascara!
here is the picture of the swatch after i took a bath!
it's still there after bathing is sure really impressive ⊙ω⊙
the downside of this mascara is it will be difficult to remove,
a great quality makeup remover is needed to remove this mascara.
finally swatches on my lashes,
Bare lashes
curled lashes
Mascara applied
before - after
OMG i loveeee the result!
even the color is blue it's actually not really visible on lashes,
although it's not as dark as black colored mascara.
and the comb type applicator is surprisingly really easy to use,
both for upper and lower lashes!
it separate my lashes nicely and no clumps whatsoever!
it makes my lashes looks natural and the fiber make my lashes longer, it holds my curl really well too!
my favorite mascara after Kiss Me Heroine Make Long and Curl mascara!
* i don't know why but only japan mascara works on me ⊙△⊙
Pro:
- waterproof
- smudgeproof
- give a natural finish
- no clumps
- nice applicator
- long fibers = longer lashes
- great packaging
Con:
- Hard to remove
- hard to find in Indonesia
- pretty expensive
what do you think about this mascara?
do you love japanese mascara like i do?O(≧∇≦)O
don't forget to comment bellow ladies~
have a nice day~
ヽ(*⌒∇⌒*)ノ